Mobile Water Treatment Services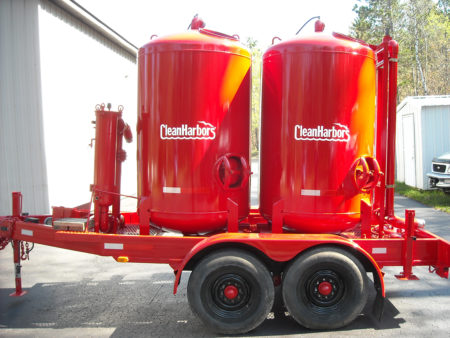 The Clean Harbors Remediation Technologies Division specializes in the treatment of contaminated water through a variety of methods and has over 20 years of experience. Remediation Technologies has an experienced team of field technicians, supervisors and project managers that are committed to safety as the first priority. We maintain all discharges within permit limits while ensuring the project is kept on schedule. Communication with all stakeholders on each and every project is critical to project success and helps to prevent construction delays.
Our equipment and crews have been tried and tested on numerous projects across the country, including the following applications and industries:
Construction Dewatering
On – Site Groundwater Treatment
Industrial Process Water Management and Treatment
Pipeline and Tank Hydrotesting
Tank Cleaning
Dredging
The industries we service include:
Large Manufacturing Plants
Refineries
Oil and Gas Industry
Large Utilities
Municipalities – Wastewater Treatment Plants
Mobile Water Treatment Equipment
Clean Harbors owns and operates a variety of mobile treatment systems used for scheduled service applications or emergency dispatch. Available in a number of sizes and configurations, our capacities range from 10 to approximately 2,000 gallons per minute. All systems are pre-assembled and self-contained, requiring minimal setup time upon mobilization, and are available as trailer-mount, skid-mount or containerized units.
Our range of treatment systems include:
Liquid & Vapor-Phase Activated Carbon Systems
Oil/water Separators
Air Stripping
De-watering / Depression Pumps
Thermal & Catalytic Oxidation
Soil Vapor Extraction / Air Sparging
Mechanical Pre-filters
Field Instrumentation
Please feel free to contact us at any time regarding our Remediation Services. For our Michigan offices call (989) 875-6500. For our New Jersey office call (231) 357-9033.