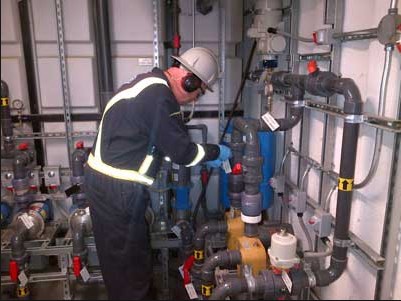 Clean Harbors offers expertise in the performance of routine operation and maintenance (O & M) of environmental remediation systems. Our field staff has 24 years of experience with the design, fabrication, installation, and O & M of soil and groundwater remediation systems. In 24 years, we have installed over 1,400 remediation systems nationwide serving large oil companies, manufacturing facilities, and municipalities.
All services are performed by trained operators well versed in unit operations, field sampling protocol (including low flow sampling), analytical methods and health and safety protocols. In addition, we offer expertise in regulatory permitting and compliance reporting through federal, state and local regulatory agencies as required during and following implementation.
The O & M services we provide include the following:
Routine system performance checks and recordkeeping for parameters such as flow rates, pressures, temperatures, etc.
General troubleshooting and repairs.
Routine equipment cleaning, maintenance and repairs.
Routine air, water and soil sample collection to monitor system performance and permit compliance.
Preparation of scheduled reports as required by regulatory agencies and consulting firms.
Median and filter changeout.
Waste removal, transportation and disposal.
Please feel free to contact us at any time regarding our Remediation Services. For our Michigan offices call (989) 875-6500. For our New Jersey office call (231) 357-9033.